HOUSTON HEIGHTS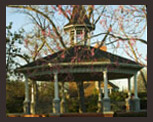 The Houston Heights is fiercely independent and jealously protective of its identity and small town atmosphere. "The Heights," as it is called, even looks different from the rest of Houston with period and reproduction Victorian structures and Mission bungalows nestled among storefronts and light industry - just the way it's always been. The changes that swept Houston's Inner Loop in recent years have, not surprisingly, been interpreted differently in The Heights. New construction is controlled by the scarcity of available land and the effectiveness of residential deed restrictions written block-by-block.
The Heights was one of the nation's first "master planned communities" with utilities, streets, alleys, parks, schools and a business district. Developed by Oscar Martin Carter after 1886 to appeal to the emerging middle class, the sale of alcoholic beverages was banned within The Heights' limits (and still is). The Heights was linked to Houston, four miles away, by streetcar in 1892 and annexed by the city in 1917.
In its second century, The Heights is favored by urban professionals and families who appreciate its quality of life and short commute to downtown. Listed on the National Register of Historic Places, The Heights is enjoying a vibrant revival and strong upsurge in home values. Existing homes are often extensively renovated and updated while new construction is encouraged to conform to neighborhood vernacular styles. Prices on existing homes range from the high $200,000s upwards of $1 million; new construction prices range from around $500,000 to well upwards of $1 million.
Restaurants in The Heights offer some of Houston's most innovative cuisine in sophisticated settings as well as terrific curbside joints, drugstore counters and delicatessens. Shopping is equally eclectic as stores which have served Houston customers for generations are being joined by upscale retailers eager to establish their presence. In The Heights, however, the past is never far away and the names of other shops, long disappeared, remain inlaid into the sidewalks of modern store fronts.



Search: HOUSTON HEIGHTS

Visit Website: http://www.houstonheights.org