WEST UNIVERSITY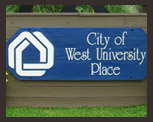 Located inside Loop 610, West University Place was developed in 1917 by former Tennessee Governor Ben Hooper  and became an incorporated city in 1924. Its proximity to Rice University inspired the name.
Originally, homes in West University were mostly small cottages. Now, due to the popularity of the area, the streets  of West University are dotted with original bungalows, remodeled homes and newer, recently constructed larger  homes. Strict ordinances provide the preservation of the beauty of the neighborhood.
West University continues to be one of the area's most desirable neighborhoods. It's well known police and fire  department, small-town government and location convenient to major business, educational, cultural, and scientific  centers, contribute to its popularity.
As the name reflects, the City of West University Place draws its location and its atmosphere from neighboring Rice University, the "Harvard of the South." With deed restrictions embedded into strict zoning ordinances West University Place, established in 1911, is actually a small residential town within the confines of a major metropolis. Academic charm and the zoning-backed pledge of residential purity have combined to make "West U" one of Houston's most appealing neighborhoods for professionals eager to plant family roots.

From the beginning, the neighborhood has prospered from its insistence on zoning and deed controls to maintain residential integrity. Today's zoning and setback rules were formulated in 1937, with the City of West University Place later incorporating them into law. The code protects residents against the invasion of industrial development, while requiring open space on 40 percent of every lot. In an era of unbridled and often chaotic urban growth, West University has emerged as an island of residential stability.

With more than 70 years of construction history, West University boasts a rich divergence of architectural style. Zoning codes have ensured that the mixture of architectural styles has developed harmoniously. Newcomers may opt for a remodeling project or a lot for new construction, while others can select a finished home to suit their tastes.

In the last 15 years, the neighborhood has welcomed scores of young professionals who have enhanced the area's reputation for architectural development. Typically, a project begins with the purchase of a single story "tear-down" cottage with two bedrooms and one bath. In its place will rise a two- or three-story home with four to six bedrooms, a minimum of three baths, separate living and dining rooms, family room, spacious kitchen and a breakfast room. The result can double or triple the initial value of the property while providing a comfortable residence for a growing family.

Located on the southwestern edge of the city's central business district, West University offers immediate access to some of Houston's finest museums, the Medical Center, Astrodome complex, and the freeway system. Its residential character has helped foster a true community spirit and has created a small town in the heart of Houston. The centrally-located community center at Auden and University houses city hall, the police station, and recreational facilities; the library is close by.

With so many options for lifestyle and real estate investment, West University Place is certain to remain one of Houston's top residential neighborhoods for family-centered, growth-oriented professionals.

Search: WEST UNIVERSITY

Visit Website: http://www.westu.org